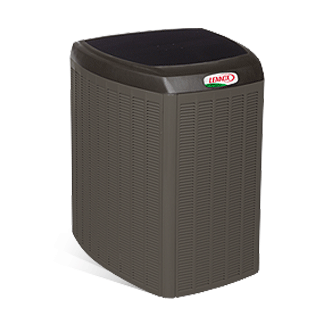 Project Detail

The most quiet and efficient heat pump you can buy
When it comes to cooling and heating your home, the XP21 rises to the challenge in a way that's unmatched by any other heat pump. Exclusive SilentComfort™ technology, combined with two-stage operation, maintains precise temperatures while keeping energy costs and sound levels at a minimum.  Efficiency rating of up to 19.20 SEER / 9.70 HSPF can save you hundreds of dollars each year*, compared to a standard heat pump. ENERGY STAR® qualified which means the heat pump meets or exceeds U.S. federal guidelines for energy efficiency. This product has been designated as one of the Most Efficient ENERGY STAR qualified products in 2015. Products that are recognized as theMost Efficient of ENERGY STAR in 2015 prevent greenhouse gas emissions by meeting rigorous energy efficiency performance levels set by the U.S. Environmental Protection Agency. SunSource® Solar-Ready option allows you to add solar modules and create a solar powered systemthat generates electricity for your heat pump and more. Two-Stage cooling allows the XP21 to run more efficiently and produce more even temperatures than a conventional single-stage system. SilentComfort™ technology delivers sounds levels as low as 67db, providing the ultimate in quiet, consistent cooling. SilentComfort™ Outdoor Fan Motor with Composite Fan Blades provides extremely reliable starting and running performance, even under the harshest outdoor conditions.
Features:
Energy Efficiency
The most quiet and efficient heat pump you can buy
Efficiency ratings of up to 19.20 SEER and 9.70 HSPF—nearly twice as efficient as a standard heat pump
ENERGY STAR® qualified—meets or exceeds EPA guidelines for energy efficiency
SunSource® Solar-Ready option—allows you to add solar modules and create a solar powered system that generates electricity for your heat pump and more, reducing energy consumption and utility costs
iComfort®-enabled technology—allows the heat pump, when installed with the easy-to-use programmable iComfort Wi-Fi® Touchscreen Thermostat, to exchange information and make adjustments as needed to optimize performance and efficiency**
High-efficiency outdoor coil—provides exceptional heat transfer and low air resistance for high-efficiency operation that can lower your cooling bills
Dual-fuel capability—can be combined with a gas furnace to enhance comfort and fuel efficiency by alternating between electric and gas heat, optimizing energy use and minimizing heating costs
Federal, state and local tax rebates and incentives may be available with a SunSource solar installation.
Quiet Operation
The most quiet and efficient heat pump you can buy
SilentComfort™ technology delivers sounds levels as low as 67db, providing the ultimate in quiet, consistent cooling.
SilentComfort™ Fan Grille—uses patent-pending, vortex-suppression technology to reduce sound of airflow exiting unit, providing a quieter environment outside your home
Precision molded compressor sound cover—minimizes operating sounds
Insulated compressor compartment—minimizes operating sounds with innovative materials and industry-leading, vibration-isolating mounts
Home Comfort
Dependable two-stage scroll compressor with Silent Comfort technology—operates at low stage most of the time for quieter, more efficient performance
Humiditrol® whole-home dehumidification system compatible—allowing the system to manage the moisture in your home's air for greater comfort and improved indoor air quality
Environmental Responsibility
Renewable energy resource—delivers environmental benefits when upgraded to a SunSource® Home Energy System that turns solar energy into electricity for your home
Chlorine-free R-410A refrigerant—provides exceptional comfort without exacting a costly environmental toll
Reliable Performance
SilentComfort™ Outdoor Fan Motor with Composite Fan Blades—provides extremely reliable starting and running performance, even under the harshest outdoor conditions
IntelliFrost® Defrost Control— helps prevent freezing and icing of the fan blade to ensure reliable operation
PermaGuard™ Cabinet—heavy-gauge, galvanized steel construction, louver coil guard, baked-on powder finish and durable zinc-coated steel base provide long-lasting protection against rust and corrosion.
SmartHinge™ louver design—allows quick, easy access to interior components from all sides for cleaning and maintenance. Protects coils from damage and provides clean appearance
Specifications:
Warranty
10-Year Limited Warranty on covered components including compressor