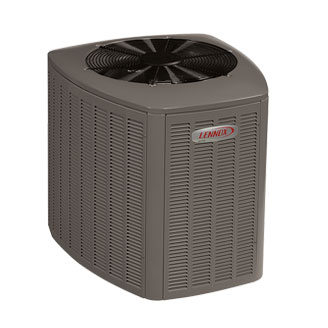 Project Detail
The Elite® Series EL16XC1 air conditioner delivers reliable operation while keeping you energy-smart. Through the hottest summers, even in harsh conditions like salty coastal environments, the EL16XC1 keeps the comfort coming. It also offers up to 17.00 SEER efficiency and is ENERGY STAR® certified, which means your comfort never comes at the expense of sensible energy use. The EL16XC1 also features a special compressor sound dampening system that helps ensure smooth, quiet operation — providing a more peaceful environment.
Features:
Energy Efficiency
Efficiency ratings of up to 17.00 SEER—can save you hundreds of dollars a year, compared to a standard air conditioner
ENERGY STAR® qualified—meets or exceeds EPA guidelines for energy efficiency
Designed to work with the ComfortSense® CS7500 programmable thermostat, a sleek toughscreen-enabled device that can help save you energy
Quiet Operation
Sound levels as low as 71 dB—much quieter than a standard air conditioner
Precision-engineered scroll compressor—special compressor sound-dampening system assures smooth, quiet operation
Sound dampening system—the precision engineered scroll compressor, with it's sound-dampening system, provides low sound levels and durability, even in extreme weather and demanding conditions 
Home Comfort
Designed to work with the Humiditrol® whole-home dehumidification system**
Precision-balanced direct-drive fan—delivers quiet operation
Environmental Responsibility
Chlorine-free R-410A refrigerant—provides exceptional comfort without exacting a costly environmental toll
Reliable Performance
PermaGuard™ Cabinet—heavy-gauge, galvanized steel construction, louver coil guard, baked-on powder finish and durable zinc-coated steel base provide long-lasting protection against rust and corrosion.
SmartHinge™ louver design—allows quick, easy access to interior components from all sides for cleaning and maintenance. Protects coils from damage and provides clean appearance
Drainage holes—prevent damaging moisture from collecting inside the basepan
Aluminum Quantum Coil—engineered from fortified aluminum alloy to deliver reliable performance, and ensure resistance to corrosion.
Specifications:
Warranty
10-Year Limited Warranty on compressor
5-Year Limited Warranty on covered components ( 10 if you register your product online )